Murse, Man bag, a purse for a man.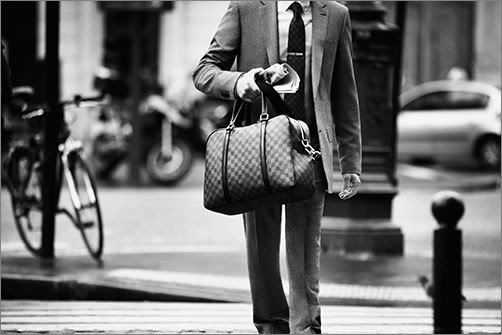 Louis Vuitton seems to be leading the way in this department, attracting rich celebrity men to their ever so handy 'man bags'
Logically it makes sense, Women have a place to carry all of their items because they wear dresses withought pockets, and tight jeans where its difficult to fit the essentials in the pockets...

But fashion is always changing. Tight jeans are now popular on men as well. How are you supposed to fit your iPhone, Louis Vuitton wallet, chapstick, and keys in those pockets? YOU CANT! well... maybe, but then you look all bumpy. yuck.
So fashion is adapting to the necessity that men need somewhere to carry all of their junk.

here comes the Murse!


Here we have the handsome Christian Ronaldo carrying his signature LV bag



There it is again!



Ryan Reynolds? Yes, he does have a murse.



Bow Wow? Manly rapper? yes he has one!



And the list goes on and on!

Welcome to the future of mens fashion!